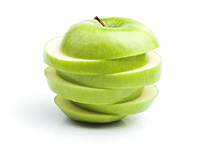 You got into business for yourself because you had a vision:
A life based on your own terms,
doing what you love
(or at least what you don't mind) doing.
But so many small business owners become their own worst bosses! Most likely, the goal was never to work 50-80 hours per week. The Big Picture probably didn't involve you buried under "To-Dos" and "Should'ves," lost in a sea of unreconciled bank statements, unsent invoices, unfiled paperwork, and unending drudgery.
It happens to virtually all entrepreneurs and small business owners about to take their success to the next level. To take the leap, you simply have to get smarter about your time and resources.
Delegating. Building a team. Focusing on your high return-on-investment activities. These are the things you need to do, and you know this. But how? And more importantly, who can you trust to handle the rest?
Us.
For example…
Our main goal

Add a little extra

Now you're talking

Full Basket

By The Slice

Business

Size

 Bookkeeping
Bookkeeping
Payroll
Bookkeeping
Payroll
Tax Prep
Bookkeeping
Payroll
Tax Prep
Consulting/Estimating
Bookkeeping

$50/Hr

Simple

$150

$250+

$265

$290

Payroll only

$125/mo

Plus $1 per employee/mo

Intermediate

$300

$400+

$420

$450

Tax Prep Only

Starts at $50 for one to three W-2s only. Price increases with complexity of return. Average $175

Call for estimated price

Advanced

$500
$600+
$630
$690
Consulting

$125/Hr

*Includes

Complex

$650
$750+
$800
$835
Project Work

** Clean it up

**Set It Up

**Shut It Down

**Other
---
Bookkeeping
This is our core competency, and over the years we've created systems to become more cost efficient and deliver accurate, rapid reporting. Your bookkeeping package includes all the information you need to run your day-to-day business:
Accounts receivable
Accounts payable
General ledger maintenance
Management reports
Business forms & filing
---
Payroll
Probably the most complex financial function a business manages, the payroll system must be handled on time, and keep up-to-date with constantly changing federal and state laws. And it's not just taxes – it's unemployment laws, too.
Our advice? Stay focused on boosting your revenues, and we'll handle the rest, including:
Payroll payments
Payroll tax deposits
Payroll tax forms
Quarterly unemployment compensation forms
Annual W-2 forms
---
Financial Statement Preparation
When it comes to your business finances, you need knowledge AND wisdom. Knowledge means having the numbers and reports available to you. Wisdom comes from knowing what they mean and how they affect the decisions you'll make for your business.
Green Apple delivers knowledge and wisdom together, so you make smarter, more profitable decisions to ensure your business success in the short and long run.
---
Training and Tutoring
Trusting your bookkeeping, accounting, and financial services to Green Apple doesn't mean you shouldn't know a thing or two about what we're doing for you. That lack of knowledge is what The E-Myth Revisited author Michael Gerber calls "Management by Abdication," a management style leading to serious business troubles.
To help you in this area, we provide QuickBooks training as well as general bookkeeping training. You'll understand your books better, and be able to use them to benefit your company.
---
Consulting Services
Not everything fits neatly into one box or another. Your business, for example, may need a bookkeeping system that can't be addressed by small business accounting software. (It happens more often than you'd imagine.)
Other times, business can get messy. Sticky tax situations. Bookkeeping records that don't add up right. Paperwork shoved into cardboard boxes just to clear desk space.
And sometimes, you can't even find time to meet with your financial person to get your books up to date! We've handled these and hundreds of other out-of-the-ordinary issues with consulting services. And we can handle anything you throw our way, with a solution tailored to fit your budget, your priorities, and your calendar.
---
To get the help you need, all you have to do is ask for it. With Green Apple Resources, you can ask all the questions you want during your free consultation.
Contact us today to get back on track to that ideal vision – the one that inspired you to get into business on your own in the first place.